Rule 5- Construction/Land Disturbance Storm Water Permitting
The Marion County Soil and Water Conservation District (SWCD) works with city/county and state regulators to enforce Rule 5 regulations. Our primary responsibility under state law is to promote the wise use of soil, water, and related natural resources.  Soil erosion, and the resulting sedimentation, is one of our main resource concerns.
The requirements of Rule 5 apply to all persons who are involved in construction activity (which includes clearing, grading, excavation and other land disturbing activities) that results in the disturbance of one acre or more of total land area. If the land disturbing activity results in the disturbance of less than one  acre of total land area, but is part of a larger common plan of development or sale, the project is still subject to storm water permitting. Most land altering activities in Marion County will also require a drainage permit from Business and Neighborhood Services, even if they are under one acre.
Here are important resources associated with construction and other land disturbing activities in Marion County:
Technical Services
Without proper erosion control prior and during earth-moving, off-site sedimentation can occur.
If you need help with an erosion problem on a construction site, schedule an appointment with our Resource Conservationist, Cheyenne Hoffa. Call the office to see if we can offer assistance with your situation (317) 786-1776.
Can Sediment Pollute?
Sediment is the #1 pollutant (by volume) in Indiana waterways! Different from a smokestack or sewer pipe (point source pollution), sediment is usually deposited over a wide area, which is why it is known as a
non-point source pollutant
.  In addition, sediment can have many other types of pollution attached to its soil particles.
The non-point pollution from construction sites can be mitigated through the use of best management practices (BMPs). These practices include silt fences or silt logs for perimeter protection, stone construction entrances and inlet protection devices. These and other practices are used by contractors to keep sediment and other construction related pollutants out of our waterways.
The silt fence used on this site needs repaired to keep sediment on-site and off of nearby roadways.
Once sediment enters the stormwater system it can appear in our waterways. This sediment plume in a retention pond is a good indicator that there is a serious sediment control problem nearby.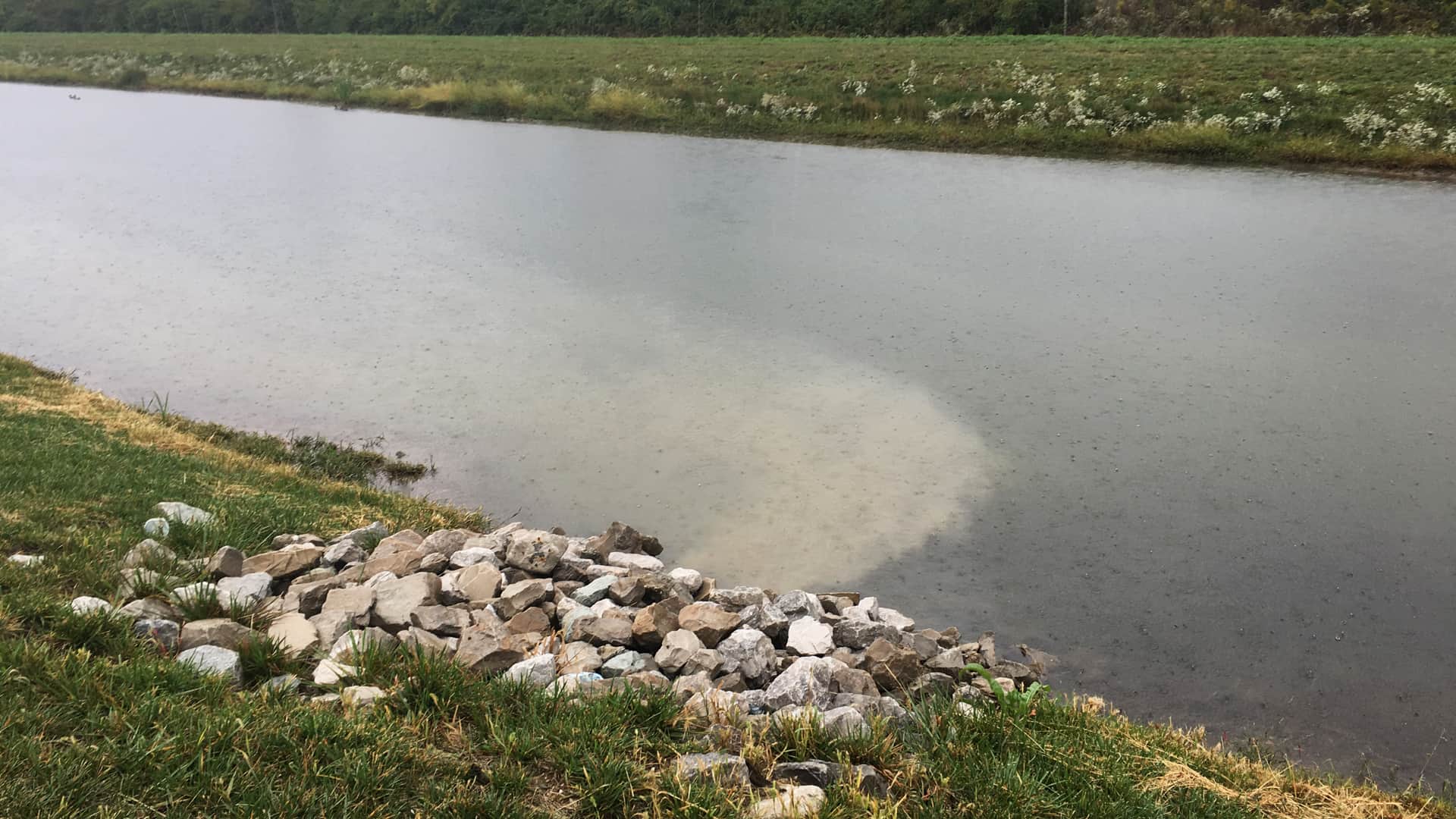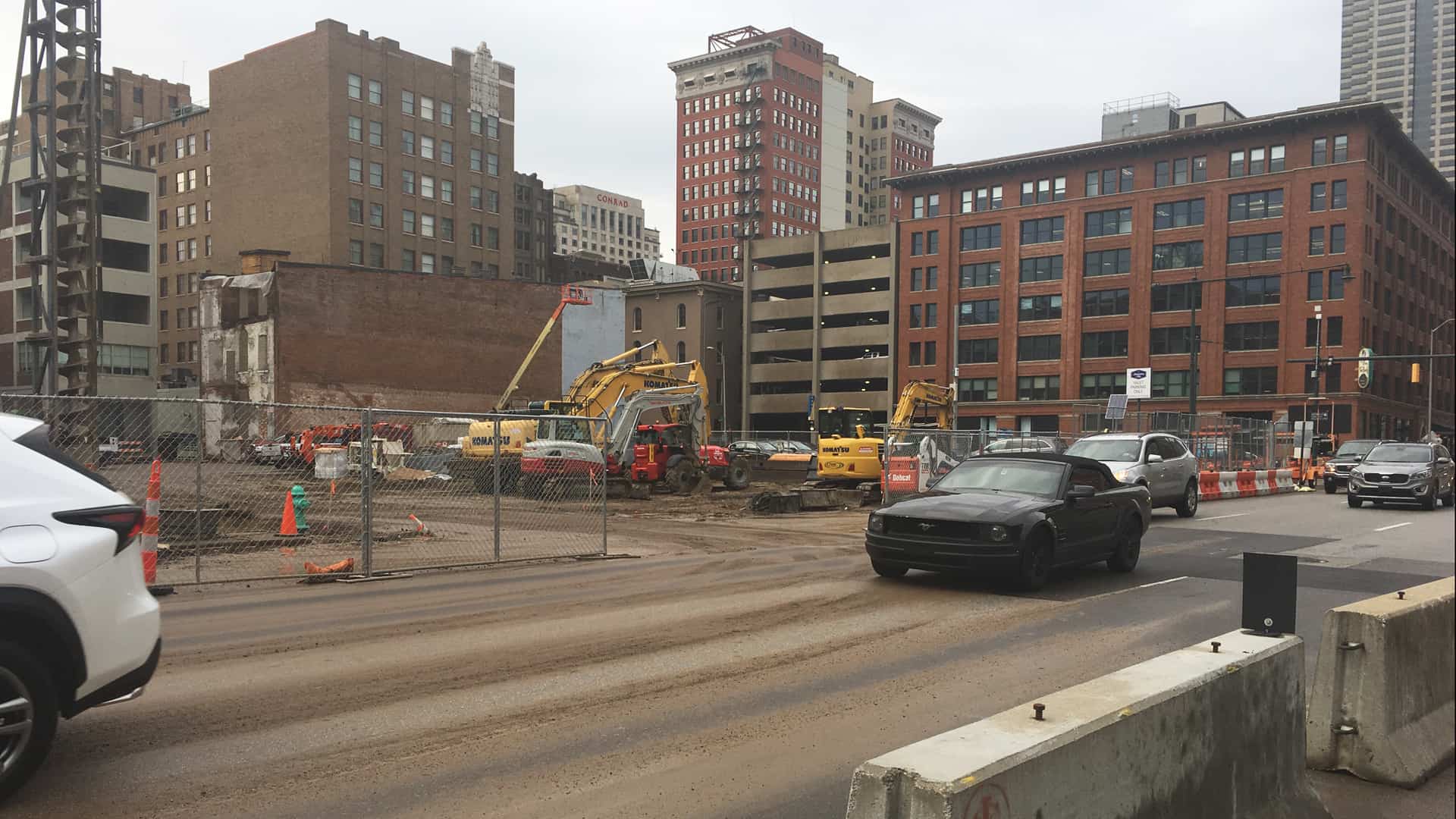 Construction sites use a stone construction entrance to prevent vehicles from tracking unstabilized soils off-site. Severe tracking, shown on the left, can cause this sediment to enter our storm drains, and eventually our waterways.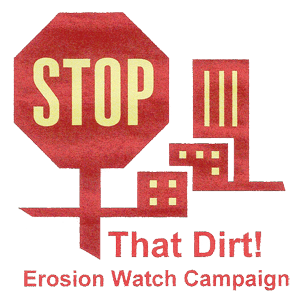 The Marion County SWCD has had various individuals and groups contact us concerning construction site erosion and resulting sedimentation problems in their community.  As a result of these contacts we have developed our Stop That Dirt- Erosion Watch Campaign. We urge community members to help keep construction sites accountable and help to keep our local waters clear of sedimentation.