Lawns can be one of our most expensive and time consuming home items. Between mowing and fertilizing and weed preventatives, there goes a lot of time and money. But that's not the whole story. Not often considered is the cost to the environment. Fertilizers and herbicides can be detrimental to the ecology and water quality of the county with their associated hidden costs. For most of us, we also pay the extra cost of cleaning these chemicals out of our drinking water.
The Marion County Soil & Water Conservation District is actively helping landowners make better choices for their lawns and gardens. Soil has historically been a main focus for the district and we are involved in protecting the soil from erosion and improving the health of the soil in ecologically wise ways.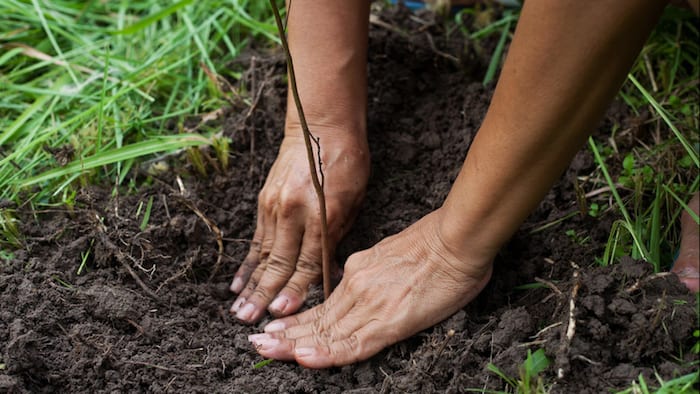 Garden problems solved with the Flower Doctor App
Mobile apps by Purdue Extension specialists can guide home gardeners in the proper care of their plants with the help of treatment methods based on proven research.
The Annual Flower Doctor and Perennial Flower Doctor apps for iPhone, iPad and iPod Touch can help home gardeners with dozens of problems for more than 200 plants. The apps are available for 99 cents each.
"Every year, homeowners invest millions of dollars in their landscaping materials, and due to insect diseases and sometimes a lack of experience, problems come up. This is an affordable and efficient way to fix those problems," said Janna Beckerman, a Purdue Extension plant disease specialist and content specialist for the apps. "You just pull it out of your pocket and have answers right away."
The apps build on Purdue Extension knowledge, using more than 400 high-quality photos that allow users to match 200 different plants with thousands of plant problems. The problems are ordered based on how common they are in Midwest gardens and yards. Once diagnosed, the apps guide users through methods to manage affected plants.
Natural spring lawn care
Seeing the lawn green up in early spring brings life back into what was drab late winter scenery. Spring into action now! This year take another step towards a healthier home & community by treating your lawn naturally. Here's how to start:
Spring Cleaning – Remove any leaves or debris left from last fall and add them to your composter to get a new batch of compost started. If you've not turned your compost over the winter, start turning it now to have it finish decomposing in time to use it for your vegetable and flower plantings.
Soil Testing – If you did not get your soil test done last fall, take samples and send them in this spring to help you adjust your fertilization plan for this summer and fall – add only what your lawn really needs!
Mowing – Bump your mower up a level. Keeping your lawn height higher will help to shade out weeds, improve your grass root structure, keep the soil cooler and reduce moisture loss. Keep your grass 2.5 – 4 inches tall (depending on type of grass) and only mow 1/3 of the blades' height at a time.
Core Cultivation & Compost Topdressing – Core Cultivation or Aeration helps to decrease thatch, improves water percolation and air movement through the soil. Spring is a great time to aerate and prepare your lawn for compost topdressing while the temperatures are still cool. Compost will add much needed organic matter and some nutrients to your soil. Compost can also help speed up decomposition of thatch. Add a ¼" layer of compost over the lawn and drag a mat or otherwise work the compost into the holes created with core aeration.
Corn Gluten and Herbicidal Soaps – Corn Gluten has been shown to be an effective natural herbicide,  but it needs to be put on NOW, in early spring before the weed seeds have sprouted. Don't use it if you plan to overseed this spring because it works to kill young seedlings. Corn Gluten application can be a little tricky to time. It needs watering the day you put it on, then needs 2-3 days of dry weather. If it rains, it will decrease the effectiveness. You will need to treat your lawn for 3 years in order to obtain 90% weed control.
Herbicidal soaps are also used with success on small annual and biennial weeds. They don't work well on perennial weeds with extensive root systems. They will kill desirable plants as well as weeds so use it carefully.
Other tools for weed management for the natural lawn may include manual removal, flame weeders, hot water weeders, flameless radiant heaters, and soil solarization for large weedy areas.
Products
Local garden centers may or may not carry organic lawn care products such as corn gluten and fertilizers. Products are available from the following catalog sources (not an exhaustive list):
Gardens Alive!
812-537-8650
gardensalive.com
Offers corn gluten, organic fertilizers, and grass seed mixtures (including those with endophytes) This is an Indiana company!
Gardener's Supply
1-800-427-3363
gardeners.com
Offers corn gluten, biological pest controls, composting equipment
Extremely Green Gardening Co.
603-427-0299
extremelygreen.com
Offers fertilizers, corn gluten, nematodes, grass seed
Planet Natural
1-800-289-6656
planetnatural.com
Offers corn gluten, fertilizers, organic and low-toxicity herbicides, and weeding implements
Peaceful Valley Farm Supply
888-784-1722
groworganic.com
Offers fertilizers, weed and pest controls, composting supplies, soil testing supplies
Additional Resources
Schultz, Warren. The Chemical Free Lawn: The Newest Varieties and Techniques to Grow Lush, Hardy Grass.Emmaus, PA, Rodale Press, 1996.
Tukey, Paul. The Organic Lawn Care Manual: A Natural Low-Maintenance System for a Beautiful, Safe Lawn. Storey Publishing, 2007.